Our next reunion is scheduled for this years homecoming game against Western Michigan the weekend of 11/18. Please email me if you can join us for the weekend and which events you can attend so we can plan accordingly. Everyone had a great time three years ago catching up on old times. I hope you can join us for some or all of the activities.
Schedule of events:

Tour of the football facility
Meet by the statue in the parking lot at the stadium.
Les Akers Cell 850-251-8127
Cocktails and snacks at Les and Ruth Akers home
3899 W Millers Bridge Road
Directions: Tennessee to Monroe St N
to Thomasville Road (slight right) about 5 miles
to W Millers Bridge Road R
Les Akers Home 850-893-0212
Email me if you are planning to attend so Les can arrange for food.
(Everyone is on their own for dinner afterwards.)
Tour of the new chapter
Saturday, 11/18, 4-5 hours before game time.
I will send out more details once the game time is set.
|
Phi Kappa Tau House/Heritage Grove Complex
South of Tennessee and off Ocala Road across
Tailgate (before and after game)
Saturday, 11/18, 4 hours before game
time and immediately afterwards
Location: the NE corner of Lot 14
Buzz Cole's Cell

727-804-5457
Bobby Haines Cell

239-292-6182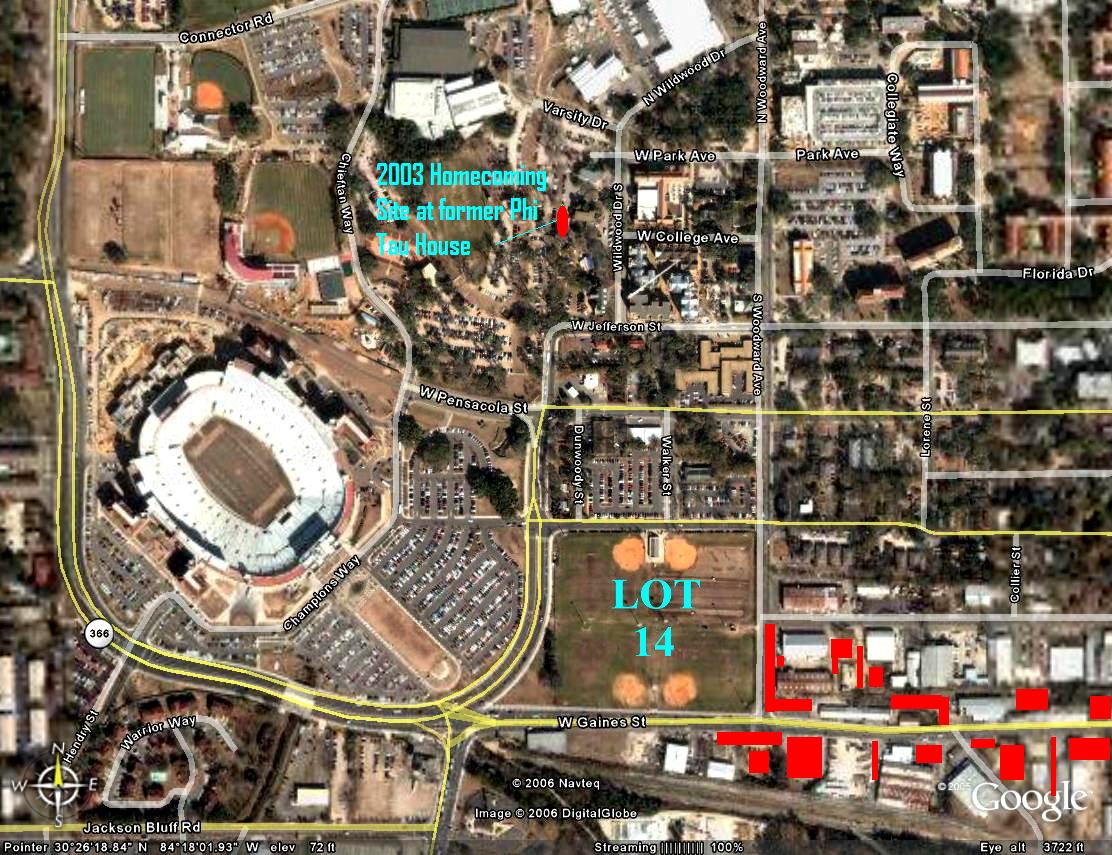 The areas marked in RED along Woodward and W Gaines are private parking lots, they usually charge around $20 and they are relatively convenient to LOT-14.
Brunch at the Stadium
You will need to call the University Center Club with your credit card information by 9/20/06 to secure a spot. Ask to be added to the Akers party. The cost is $27.50 per person.
I hope to see you all there...